Compatibility makes all the difference
System memory is used by practically everything on a device with compute capabilities. For a NAS, it is responsible for not only allowing the processor to run core services, additional packages, or even other operating systems via virtualization but also caching the data that is being accessed. System memory provides a small but extremely fast, temporary storage to buffer incoming and outgoing data to improve performance.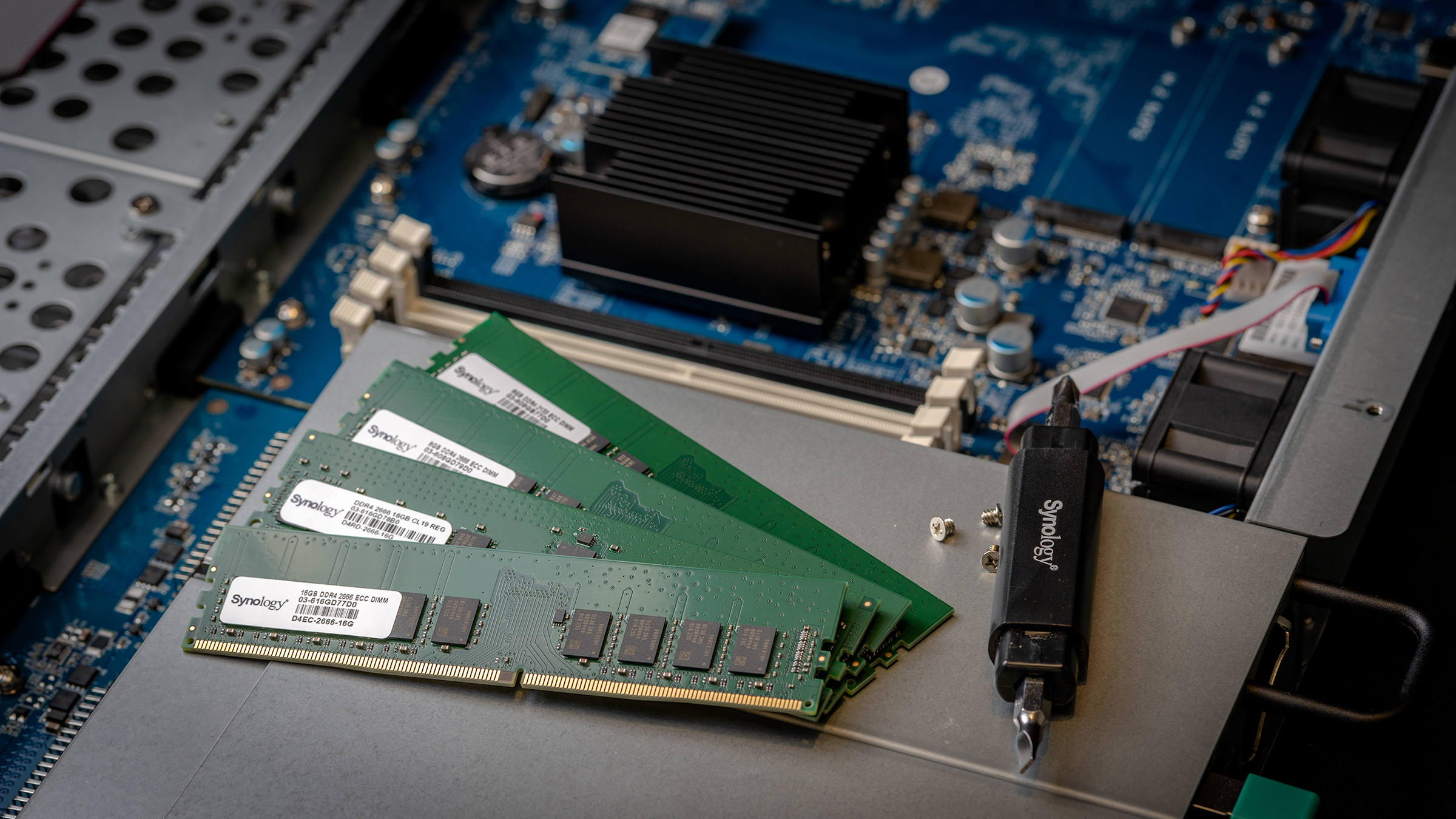 Many Synology devices support system memory upgrades. Installing additional memory modules may help your device become snappier and will potentially allow it to support additional users and services. It's a relatively simple and cost-effective way for users to upgrade their devices to satisfy increased demands months or even years after purchasing the device.
Thousands of hours in testing 
While the specifications of a memory module are primarily determined by the DRAM chips that have been chosen, the quality and consistency of it can vary even with the same chips. The only way to ensure consistency is through a rigorous testing procedure.
Each device has different design targets, depending on the form factor, performance requirements, and intended market. Before a Synology NAS model is cleared for mass production, it would need to have spent several months handling high-stress workloads and pass each test without exception. Memory modules follow the same testing regime. 
Each NAS model undergoes hundreds of hours of tests for each supported memory configuration, involving continuous file transfer tests, direct memory tests, and tests that mimic various usage profiles. Testing involves not just devices in normal operation, but also seemingly more unusual ones, such as power on success rate and recovering from improper shutdowns. Devices with multiple memory slots need to undergo all of the tests for each supported memory configuration. 
For example, the RS1619xs+ has four memory slots, our engineers will need to test 8 combinations of memory configuration using 8GB and 16GB ECC UDIMM modules.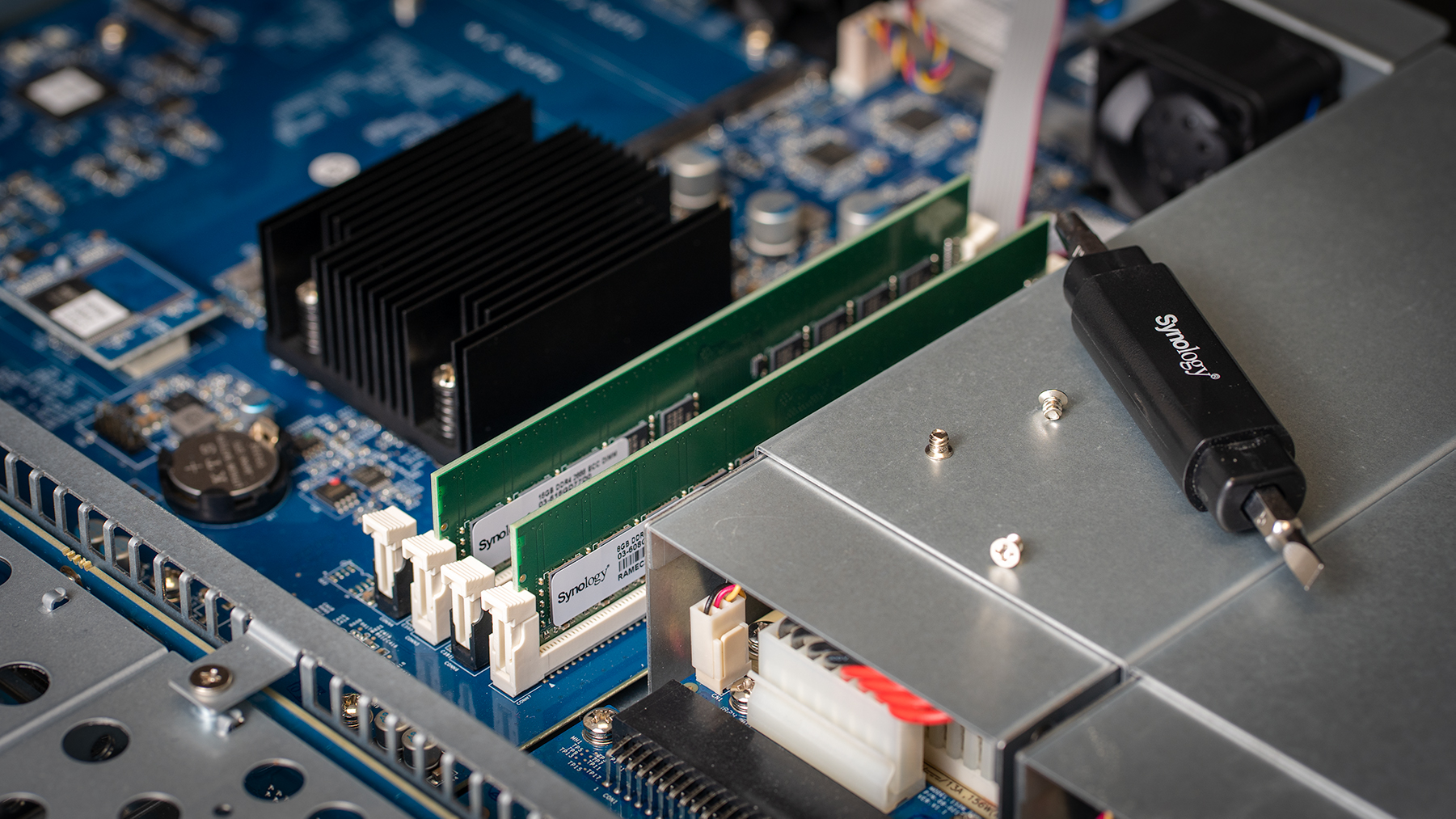 Un-tested memory modules can lead to unrecoverable data loss 
Many customers choose to purchase retail memory modules when upgrading their Synology products. As there are various memory brands on the market, it is difficult to know which modules are reliable without long-term reliability tests.
With the whole system dependent on system memory, any instability can cause corruption to data and system instability. Unvalidated memory may appear to work fine in a system, but like bit rot, serious issues may only manifest itself over time and in unpredictable ways. 
Synology support teams regularly receive requests to troubleshoot stability and corruption issues, some resulting in RAID volume degradation and crashes on devices that have non-validated memory installed. In many of these cases, the stability issues were resolved by removing the 3rd party memory.

Non-validated memory usage & technical support 
According to our stats, there are around 50 inquiries per year regarding non-authentic Synology memory modules, including boot failures, system hangs, storage volume crashes, or even data loss.
Synology is only able to guarantee compatibility with memory modules in configurations listed on our memory compatibility list. We only provide technical support in a limited capacity if your device contains memory not on the list. As memory issues can cause erratic and unpredictable behavior, it would be difficult to pinpoint the cause of issues and then provide a suitable solution for it. 
Greater peace of mind
For the safety of your data, it is highly recommended to choose authentic Synology memory modules for memory upgrades because they are rigorously tested for compatibility and optimum reliability – with the support of Synology's limited product warranty.
If you need more information about Synology memory modules, you can check the tutorials and FAQ articles below.