After more than a year of digital events and presentations, we were counting down the days to meet the people who use our security solutions. In truth, The Security Event in Birmingham, UK, felt a bit like coming home. Created for the commercial and residential security market with the support of key industry players, this free-to-attend exhibition attracted thousands of visitors — from end users and company executives to system builders and IT architects — eager to discover the latest security developments and innovations.
When the global pandemic forced the security world to a standstill, leading brands continued working tirelessly behind the scenes to improve their security products and develop innovative features. The same is true for Seagate. We were delighted to present our portfolio to the UK's security professionals.
Video analytics, from periphery to cloud
In today's post-pandemic world, we're storing, processing, and analyzing exponentially growing volumes of data in the periphery and the cloud. This is especially true for video and video analytics, which has numerous endpoints collecting and creating data — from high-definition cameras to IoT sensors.
Video plays a critical role in the security sector. To effectively utilize their video data, modern organizations need reliable, fast, easy-to-access data storage solutions. The success and accuracy of AI technology often relies on the availability of data, and if you want systems to learn and improve their predictive power, all collected data must be stored for as long as possible.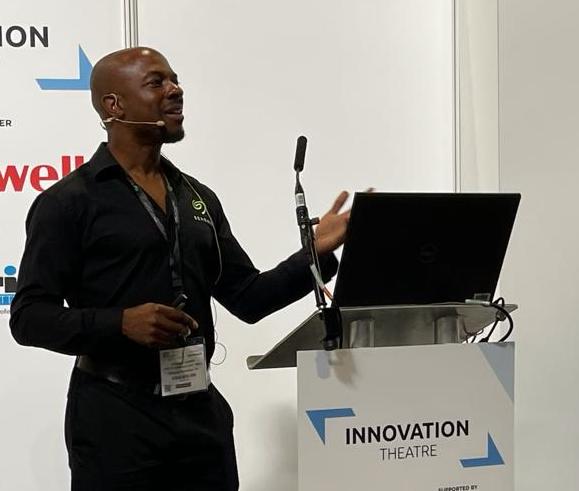 Cloud environments are a great way to deal with this data avalanche, but it is imprudent to bet on a single horse. Public clouds are highly dependent on internet connections and on the distance between cameras and servers, which in many cases will lead to latency issues. For data-intensive video security applications, it has become more and more common for organizations to rely also on data centers or private cloud located at or near the edge, and in certain cases, on-premises data centers, as part of their IT infrastructure mix.
Whether considering a dedicated storage cloud, storage for servers at the edge, or video peripheral storage at the point of capture and immediate analysis, the hard drives deployed for big data applications in those various applications must be able to perform under extreme workloads. For example, a hard drive for video analytics purposes must be optimized for a 24×7 workload, without risking downtime. So, selecting hard drives or storage systems that are not enhanced for always-on video capture can result in failures in video streaming quality and workload performance, and even in sub-standard analysis capabilities.
This is precisely why Seagate's portfolio stands out. With enterprise-class storage solutions ranging from video- and AI- optimized drives, to the world's leading high-reliability drives for servers and data centers — and from the most innovative and easily integrated petabyte to exabyte data storage systems, to our highly available always-on, always-encrypted cloud storage as a service (STaaS) Lyve Cloud, our products provide valuable insights into data, whatever the environment. And through the Seagate Partner Program, Seagate collaborates with leading suppliers of video security solutions and systems that offer superior levels of reliability, redundancy, and security.
Flexibly manage data growth with Lyve Cloud
Seagate's Lyve Cloud is an enterprise storage solution that confronts the mounting problem of exponential data growth. By delivering cloud storage services with a simple and transparent pricing structure, it allows users to use only the storage they need, and to grow capacity whenever they need to. This STaaS provides flexible, encrypted storage that complements multicloud environments, on-premises backup, and edge device storage, enabling organizations to capture huge amounts of unstructured data while also reducing their IT costs.
Lyve Cloud is part of Seagate's Lyve — an edge-to-cloud mass storage platform offering a full slate of services, hardware and software that ease mass data transfer needs. Data scattered across multiple separate clouds and edge locations can become trapped in silos. Large collections of data of a certain type, or originating from a particular application, often get pulled by the weight of their own gravity into such a silo — becoming inaccessible or forgotten when they could be at their most valuable. This presents an enormous obstacle to innovation. Lyve addresses this issue. Built for the edge, Lyve allows you to deploy storage infrastructure closer to the data source and to more easily and flexibly control the movement and use of all your data, so you can break down the barriers caused by data gravity.
Lyve is cloud-neutral and interconnects with any cloud or compute ecosystem — it enables frictionless, rapid movement and ingestion of data from endpoint to edge to cloud. You can move data to wherever it creates the most value — with zero egress or access fees.
Seagate Partner Program
At the Security Show, we noticed something — our customers are crying out for solutions that will help them realize the full potential of their data. With our partners, we can provide these solutions and help you thrive in this growing data economy.
Through the Seagate Partner Program, we provide training and marketing support to help you take advantage of trends and create new business opportunities. You can keep track of the latest products and technology through our informative, on-demand training modules, and access resources and personalized pathways that will help you achieve your unique goals. There are several paths to choose from, including a specific track for installers of video and video analytics systems.