Dell Technologies' history of innovation and leadership in mainframe storage spans more than three decades. That legacy of innovation and leadership continues today with the announcement of Dell EMC  Disk Library for mainframe (DLm) virtual tape release 5.4. This release enhances the DLm model 8500 adding Dell Technologies PowerScale and Isilon storage support, 3-site GDDR automated tape failover for PowerScale / Isilon, and leverages S3 connectivity between DLm and Dell EMC ECS storage. These new features will be detailed at SHARE Virtual Experience August 9-13.
For environments where mainframe tape data can't leverage the great deduplication rates that DLm can provide with PowerProtect or Data Domain, Dell EMC PowerScale and Isilon storage enable DLm to potentially lower the cost of mainframe virtual tape compared to using DLm with PowerProtect (Data Domain) storage. As an example, consider tape backup of transaction data with a high daily rate of change, data that appears "unique" every time it's backed-up to tape. Deduplicating this type of data may offer near zero benefits. For this type of data, this announcement makes available a wide variety of Dell EMC PowerScale and Isilon models to fit every range of capacity and performance required when data simply can't take advantage of the great deduplication ability of PowerProtect DD or Data Domain storage (determined by your Dell Technologies tape specialist's study).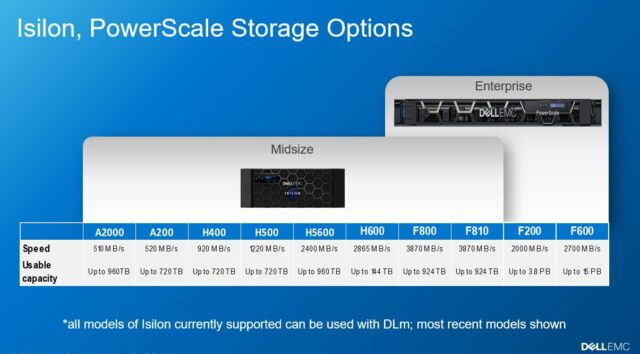 Today's announcement also enhances DLm's use of Dell EMC Elastic Cloud Storage (ECS) as a Long-Term Retention (LTR) storage option for physical tape replacement. Release 5.4 replaces DLm's existing NFS connection to ECS with an S3-compliant interface for improved performance when storing or retrieving object-based tape volumes. All of DLm's  storage options combine to ensure that your physical (or virtual) tape requirements for mainframe data protection are exceeded, whether you need to stretch your tape TCO to cover newer requirements, commit data to the public cloud with Amazon AWS or private cloud with Dell EMC ECS. In all cases, simply, finally, say goodbye to cumbersome, complex physical tape.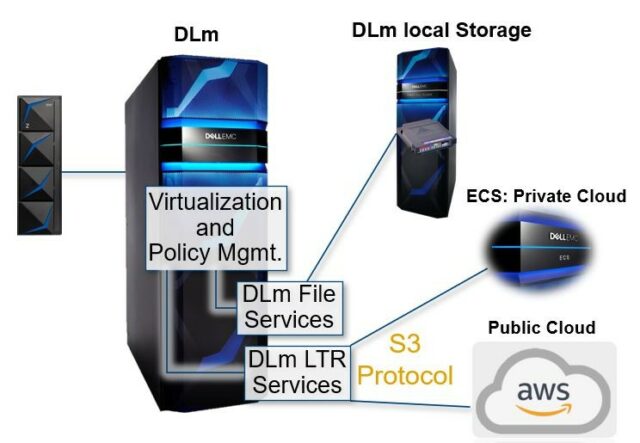 DLm's common S3 interface for Long Term retention can leverage Dell EMC ECS or AWS  
Dell Technologies recognizes that your mainframe storage strategy must increasingly leverage your organization's expanding cloud infrastructure to reduce costs. Ideally, this is done using capacity within an existing cloud infrastructure and offloading mainframe physical or virtual tape data identified as requiring long-term retention. According to Gartner¹, "by 2025, 35% of data center mainframe storage capacity for backup and archive will be deployed in the cloud to reduce costs and improve agility, which is an increase from less than 5% in 2020."
In the years since DLm first wrote to the cloud, Amazon has expanded their cloud offering, tailoring AWS to include US government users with an offering known as "Amazon GovCloud" which DLm has supported since release 5.3, making it easier for US federal agencies with mainframes and an AWS account to store their data.
Please visit our Dell Technologies mainframe solutions to learn more.
1 Gartner, Inc. | Cloud Storage Management Is Transforming Mainframe Data, September 2020