To Diana Henke, HR Director of Lenovo's DACH (Germany, Austria, and Switzerland) region, working at Lenovo means building a successful and diverse team that's moving in the same direction to achieve objectives. She seeks out real commitment and passion, because she truly believes Lenovo teams operate best with those values.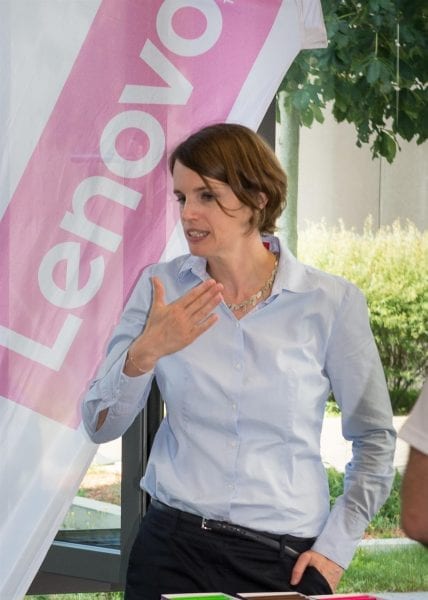 "I also believe [Lenovo's culture] simply means fun, to be honest, because that's what I also observe," she said. "We have such a collaborative, open atmosphere where people just enjoy working together."  
It is that team-oriented culture that ensures success for not only Lenovo, but for all our partners, and it's that very culture Diana relied on to tackle a major business challenge early last year. 
A Fujitsu-owned production plant in Germany hosted a team of over 100 PC development and hardware engineers for a Lenovo and Fujitsu joint venture company: Fujitsu Client Computing Limited (FCCL). Two years after launching the new company, the employees were still technically employed by Fujitsu but working entirely for FCCL. The production plant was planned to close, but the engineering team and their work was of critical value to the continuity of the FCCL business. It was time to fully transfer their employment to the joint-venture company. Fujitsu set a goal to transfer the whole team within a single year.  
As soon as FCCL approached the Lenovo HR team for help, Diana immersed herself in the entire process, effectively volunteering to serve as the FCCL venture's HR lead in addition to her Lenovo HR duties. Unfortunately, Diana's eagerness and leadership were not rewarded with project simplicity. On top of the complexity of leading HR efforts in alignment with Lenovo, Fujitsu, and the FCCL joint venture, Diana could not simply transition the workers to a new entity. In alignment with Germany's strong labor laws, she was required to hire each individual engineer as a new employee.  
Naturally, the closure of the plant and the process of rehiring created doubt amongst the workforce. Many of the engineers had been working for Fujitsu for more than 30 years, and their culture and processes had survived the first two years of the FCCL joint venture. To the engineers, they were suddenly leaving a company they had known for much of their careers and being asked to join a new company – whether that would be an enticing competitor or the still-unfamiliar company unto which they had become assimilated with no other European presence. The engineers could choose to leave entirely, damaging retention and drastically compromising the future success of the joint venture. 
Diana and the team built a strong value proposition for the engineers by inviting Lenovo and FCCL leadership to present Lenovo's corporate values as well as the commitment to the joint venture. Diana shared her own experience, as one who also joined Lenovo through a previous acquisition, to reassure the engineers that while they may feel a bit awkward and unsure at the beginning, they would be supported through the transition.  
"Our team, the way we work – it's one of the main reasons we're different from competitors," she explained, "and we demonstrated our culture values [as a project team]. We were committed; we were doing what we said. We were demonstrating a pragmatic way to tackle things. This is what helped us to build trust into the new company."  
We were committed; we were doing what we said. We were demonstrating a pragmatic way to tackle things. This is what helped us to build trust into the new company
While convincing the engineers to stay, Diana faced a new logistical challenge. All previous IT and HR tools for FCCL Japan were still Fujitsu-based. To bring in the new team, Lenovo and FCCL had to create a new system for the engineers in Germany using a new HR operating model that Diana and team would build from scratch. Diana led the taskforce to create a solution which blended what the engineers were used to and the model she used at Lenovo.  
Throughout the entire process, three different companies were involved – Lenovo, Fujitsu, and FCCL – each with their own HR, Legal, and leadership teams with unique, sometimes differing, opinions; Diana worked hard to build relationships with all parties.  
"I had to get to know a lot of new team members, had to understand how they work, had to understand their priorities," she said. Diana was able to leverage her expertise, internal network, and professionalism to influence stakeholders on the best actions to take in this complicated environment to establish common ground.  
She attributes Lenovo's collaborative culture to the project's overall success. "The strength of Lenovo's team came into play," she said. "I was amazed by how everybody helped out. Sometimes it was very short notice and turnaround. And wherever I went, everybody was super helpful and trying to make this project work. I was amazed by that teamwork." 
While proud of the work accomplished over the past year, she admits that the project has been time consuming and has sometimes taken a personal toll. Reflecting on how much she has given to this process, Diana also thinks about the lessons gained: "I loved the project because it was so much learning from day to day. I think one key learning is to stay open for the new challenges, to adapt constantly, to be flexible. And the other thing is also to be open towards different diverse teams, different cultures."  
Nearly a year later, the business continuity has been preserved for FCCL through the retention of this esteemed group of engineers – a direct result of Diana's commitment and leadership.