In an ideal world, technology is provisioned perfectly, and IT systems function without a hitch. On the contrary, rarely does a day go by without troubleshooting problems and facing resource constraint issues. IT managers have to squeeze the most out of their existing infrastructure.
The reality is that business today is constantly undergoing rapid evolution with new initiatives driving IT demands. IT operations must have the agility to quickly react to fluid business dynamics. The top down directives from leadership is to run faster, become more efficient and achieve higher performance. Delivery deadlines need to be met while keeping system uptime high and maintaining a 24×7 operation. Having the versatility at your fingertips to scale is golden.
The last thing IT managers should worry about is the concern for billing and invoices when the priority is putting out fires and quickly ramping up capacity. This requires juggling multiple pressing tasks and projects for IT infrastructure to run optimally. The first thing that is top of mind is how quickly can issues be resolved. IT operations cannot afford system overloads and shutdowns. The path to resolution is often to fix the problem now and figure out the cost later. This can be costly. Productivity is paramount. A drop in performance is detrimental to the business. A failure in mission critical transactions can generate loss in revenue and impact an organization's reputation. Good strategic financial planning can help mitigate potential issues. IT as-a-Service (ITaaS) pay-per use models can offer IT managers the necessary flexibility as well as reduce the risk from lack of cost control.
APEX Flex on Demand** allows organizations to strategically plan for the unexpected and protect against unpredictable challenges by leveraging the 85% buffer capacity billing cap feature.* Scalable technology solutions can be implemented immediately without delay. APEX Flex on Demand is an ITaaS pay-per use model that allows the technology usage and cost to scale up or down based on the business need. The alternative and inefficient approach would be to over provision and idle the equipment until the need arises. APEX Flex on Demand lowers the total cost outcome for peak system needs. Customers have the confidence that they will not have to pay a significant premium for this feature.
What is 85% buffer capacity billing cap? 
The buffer capacity billing cap is a Flex on Demand feature in which customers' monthly charges for consumed capacity are capped at 85% of total raw or usable capacity. This means that customers who use more than 85% of deployed capacity will not be invoiced for the additional usage. That is the assurance you get knowing you are covered so you can solely focus on running your IT business. APEX Flex on Demand gives you the additional peace of mind by capping total monthly billing at 85% usage of total installed capacity – an offer unmatched by other infrastructure providers.
How does it work?
Dell Technologies works with you to establish the committed capacity you currently need and the buffer capacity you will require in the future. Each month customers pay for their agreed committed capacity and only the buffer capacity that is actually used.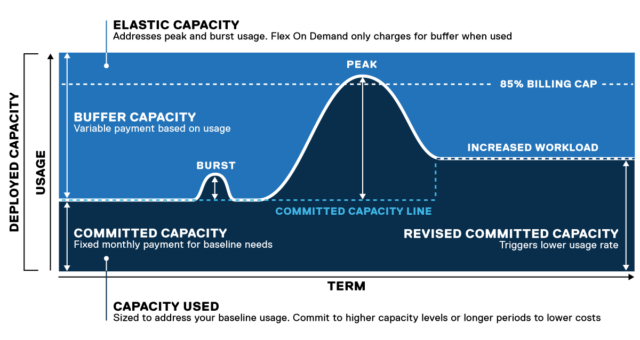 Consumed capacity is actual usage. It is measured multiple times per day and the daily average is used to calculate the monthly average. If the monthly average amount of consumed capacity is greater than 85%, then the maximum charge is applied. There is no limit to the amount of actual capacity that can be consumed (other than the total available).
Which products are eligible?
Eligible products include storage, data protection, hyper converged infrastructure (VxRail, VCF with VxRail, and Azure Stack Hub), converged infrastructure (VxBlock/VxRack), and PowerFlex rack and appliance (storage only).
Get the assurance of knowing that Dell Technologies can help you plan for technology challenges and mitigate unpredictable peaks, burst, and demands. Simplify budgeting and predict cost with the APEX Flex on Demand 85% billing cap.
We invite you to learn more about APEX Flex on Demand.
**Payment solutions provided to qualified commercial customers by Dell Financial Services (DFS) or through Dell Technologies group companies and/or through Dell's authorized business partners (together with DFS "Dell"). Offers may not be available or may vary by country. Offers may be changed without notice and are subject to product availability, eligibility, credit approval and execution of documentation provided by and acceptable to Dell or Dell's authorized business partners.  In Spain, solutions are provided by Dell Bank International d.a.c branch in Spain and specific countries within the EU and EEA and in the UK and Switzerland by Dell Bank International d.a.c, trading as Dell Financial Services which is regulated by the Central Bank of Ireland. Dell Technologies, DellEMC and Dell logos are trademarks of Dell Inc.
* Available for eligible products only. Dark site, non-metered deployments, and customers non-compliant with their contract terms are not eligible.