iPhone 15 Pro and Pro Max users may be surprised to discover that the screen mirroring icon seemingly vanished. Where did it go? Why did it change? Get answers here.
The popular iPhone screen mirroring feature spent many years in the same default location across numerous iPhone models and operating systems. The familiar icon with two overlapping rectangles was prominently featured near the top of the iPhone Control Center for quick access.
iPhone users now have to scroll a little further in Control Center to find it. See the picture below to find the new default location for the screen mirroring icon.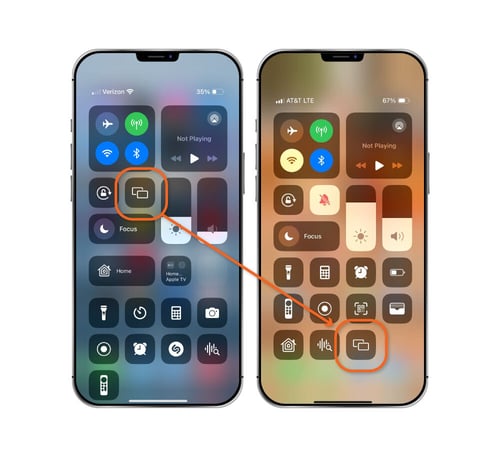 Fortunately, you can rearrange many of the Control Center icons if you don't like the new setup. Add, remove and rearrange iPhone Control Center icons in your iPhone Settings app. Simply open Settings, go to Control Center and make your desired changes.
It's important to note that the default screen mirroring icon only moved on two of the 2023 iPhone models: the iPhone 15 Pro and iPhone 15 Pro Max. The screen mirroring icon did not move on the iPhone 15 and iPhone 15 Plus.
Need more help? Get the complete guide for screen mirroring iPhone 15 and iOS 17 right here.
Why did Apple move the screen mirroring icon on iPhone 15 Pro/Pro Max?
The reason for this change is the new iPhone Action button. The Action button replaced the mute switch on the iPhone 15 Pro and Pro Max. It can be programmed to do almost anything—turn on the flashlight, launch the camera, mute the phone, access your shortcuts and so on.
Since the Action button can be used for tasks other than muting your iPhone, Apple needed a way to keep the mute function easily accessible. Apple put the mute icon in Control Center, displacing the screen mirroring icon.
Need a better way to screen mirror in your school or business?
Use Ditto screen mirroring in the places you meet and collaborate. Ditto makes it easy to wirelessly share content from your devices to larger screens. Ditch HDMI cables, adapters and complex/overpriced hardware. Enjoy multi-device and multi-display mirroring, reliable connections, annotations, moderation controls, digital signage and so much more.
Begin sharing wirelessly with Ditto today. Get started for free.
Related Reading