How did they do it? That's what tech industry watchers and consumers alike asked when we debuted the world's first foldable PC – the Lenovo ThinkPad X1 Fold – earlier this year. We captured imagination and made real a 13.3-inch OLED display combined with the full functionality of a PC in a foldable design as portable as a smartphone.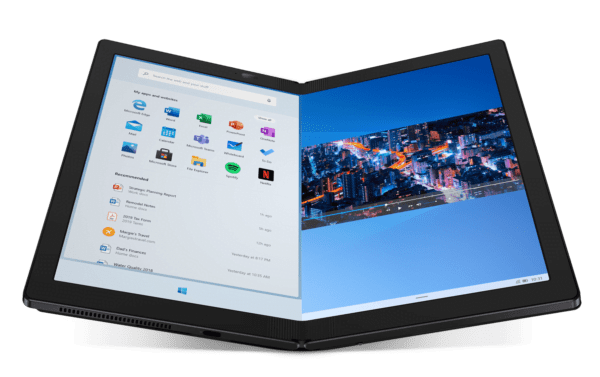 So how did we build this example of envelope-pressing innovation? The answer to that question lies beneath the calculations, spreadsheets, and the reams of technical details driving the engineering. Innovating a ground-breaking piece of technology like the ThinkPad X1 Fold requires an unconventional approach. It's this combination of end product and innovation approach that we're being recognized for by Fast Company today as one of their Best Workplaces for Innovation.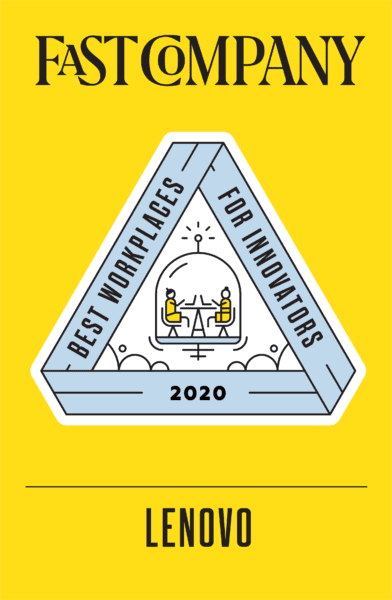 The ThinkPad X1 Fold ideated over time from cross-team, cross-functional, and cross-continental collaboration. This mindset and approach to democratize Research and Development within the company across functions and geographies instead of in one dedicated department, birthed a silo-busting, cross-functional team to converge and cross-collaborate in an effective way. Not easy in a 63,000-employee organization.
Our diversity has always made us unique among our technology peers. While it has afforded us unique opportunity to create compelling products and services, the challenge remains in balancing speed and purposeful innovation. To further ensure we build diversity and accessibility into our products, we are in process of launching a Product Diversity Office (PDO). This office will help us and fulfill commitments we've made as a signatory of the GSMA Digital Declaration to create inclusive growth and opportunities for all, ensure environments nurture innovation, and extend consumer trust in the digital age. We continue to find new ways to increase our diversity across our workforce at all levels and roles.
We asked some of our innovators who have or will be sharing their expertise in a series of Science, Engineering, Technology and Math (STEM) At Home videos to help students learning remotely during the Covid-19 crisis to share what they appreciate about working at Lenovo.
Mounika Vanka, Researcher, Lenovo Labs
What makes Lenovo different from other places you've worked?
Lenovo is a very large and global organization compared to the other places I have worked. This global footprint for Lenovo, makes it extremely diverse and gives you the opportunity to understand the work ethic, culture, and background of people from various countries. It has a very flexible work from home culture that I really appreciate. I also find the number of levels between myself and the Chief Technology Officer to be far fewer than other companies/teams, and this gives a sense of importance/being heard because the CTO can listen to your ideas and give feedback directly. Lenovo has a culture to constantly innovate and tackle problems that currently exist in the market as well as a focus on ground-breaking technologies that will come into the market in 3-5 years from now. It has short and long term focus areas that challenge employees to constantly come up with new ideas and solutions.
How does Lenovo's diverse culture make you better on and off the job?
The diverse culture at Lenovo gives you a chance to interact and understand others' perspectives, and this global representation in teams makes people feel included. As a result of this, I am not afraid to be myself and don't feel underrepresented because there is an equal mix of people from various backgrounds, countries, and cultures.  This interaction also gives me new perspectives to approach and solve problems that I can face either professionally or personally, and it has helped me grow as an individual
Sum up why work at Lenovo in a sentence.
A place where you can meet intelligent and diverse people who are extremely eager to learn and help.
About Mounika:
Mounika works as Researcher at Lenovo Research where she gets to work on the most interesting and state-of-the-art prototypes and ideas in the field of Augmented Reality, Machine Learning, Voice Recognition, and Natural Language Processing, to name a few. Every day is a new challenge, to learn new technologies and concepts, and this provides the opportunity to make mistakes, learn, and grow. She is a Biomedical Engineer by profession and graduated from Duke University in 2018 – Yes, she's a huge basketball fan and ardently supports Duke during March Madness. Mounika did her undergraduate degree in Biomedical in India, and for some time in Adelaide, Australia. During her free time, she loves doing escape rooms. They challenge and always push you to do your best while being fun at the same time. She paints, loves being outdoors, and playing sports; especially tennis. She also loves travelling and has been fortunate enough to travel to three different continents and still counting.
Rebecca Horton, Design Strategy Leader, Commercial Internet of Things Business Unit, Lenovo
What makes Lenovo different from other places you've worked?
One of my favorite things about the work I do at Lenovo is that I am always discovering new pockets of the business who are supporting the 'leading edge' of our industry. Across our organization, from Raleigh to Singapore, and London to Beijing, I have encountered champions looking for ways to pioneer the next frontier of technology and computing and bring a fresh approach to our customer's problems.
How does Lenovo's diverse culture make you better on and off the job?
Lenovo celebrates diversity in the everyday. My colleagues from different backgrounds, cultures and viewpoints have brought nuance to my way of working and propelled my growth as a storyteller and leader. Their influence has inspired me to explore topics like 'improv for business' and rekindled my love for Chinese foods like 'tie ban niu rou.' I am becoming a more multi-faceted global citizen thanks to my teammates and finding new friendships in the process.
Sum up why work at Lenovo in a sentence.
All the way to the top, Lenovo has embraced the challenge of becoming a new kind of company, and as such it is uniquely positioned to offer opportunities for personal and professional transformation.
About Rebecca
Rebecca is an outgoing designer and strategist who is passionate about the power of well-designed experiences and environments to transport and thrill audiences. She works as Design Strategy Leader with Lenovo's Commercial IoT team to bring the customer's voice to its offerings, ways of working, and agenda for growth. Prior to Lenovo, Rebecca has led design and innovation programs alongside a number of exciting individuals and organizations such as Deloitte's Gov Lab, Cisco Systems, MIT, and Bloomberg Philanthropies.