QNAP has long been committed to the development and application of various storage, networking and computing technologies. It knows well that the collective power of the Internet is enough to change the face of the world. In addition to server-related products, QNAP is also developing network infrastructure equipment, and has introduced multiple high-speed wired (QXG series) and wireless (QWA series) network cards as well as 10GbE unmanaged switches (QSW series) for users in order to create a well-connected network environment. QNAP also the integrates virtual network with physical environments. On the basis of its own virtual machine hypervisor technology, it has launched a software-defined virtual machine network environment, allowing users to select on-demand configuration in combination with high-speed physical networks. Be it for enterprise resource saving or application development acceleration, you can always enjoy the maximum convenience of virtual and physical network integration.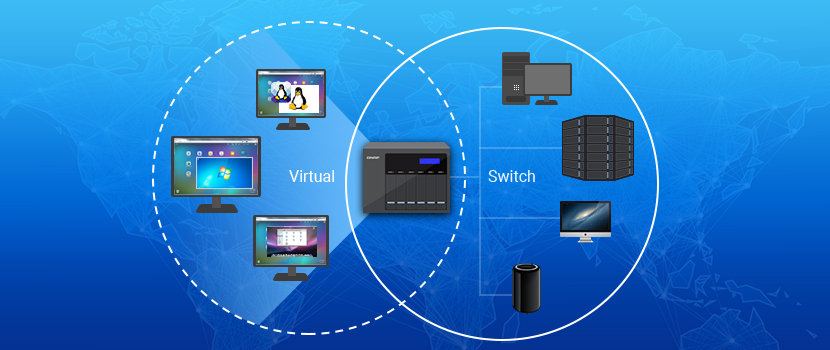 New network topology map lets you see virtual network and physical connections at a glance
In QTS 4.3.5, QNAP has enhanced various network functions and provides a more intuitive and easy-to-understand overview of network status, making it easier to use. The newly revamped "Network and Virtual Switch" app is the network configuration center of QNAP NAS. Once you open the app, you will see a clear network topology map, listing all NAS physical networks, VM/container networks and virtual switches. It not only allows users to easily understand the virtual and physical network connection status and saves networking checking time of IT staff, users can also directly go to the corresponding page to set associated settings, and even start the VM/container. With a single interface integrated with key features, it greatly simplifies various configuration processes.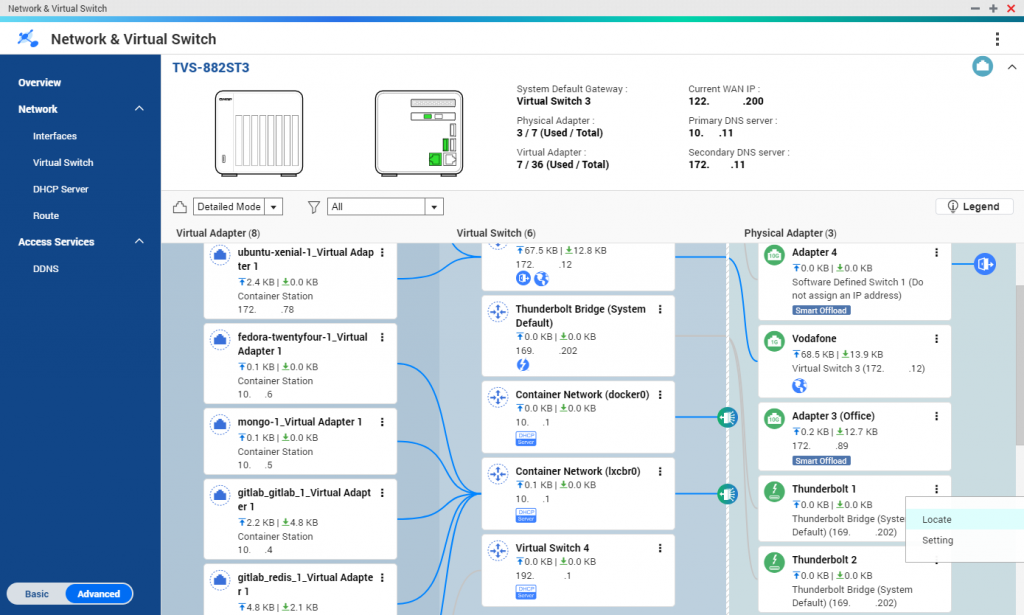 Multiple Virtual Applications + On-Demand Virtual Networks = Virtual and Physical Integration Benefits × ∞
The software-defined virtual machine network environment offered by QTS provides multiple modes to choose from, making NAS more versatile for different usage scenarios. For example, users can connect all virtual machines as a closed network for sandbox testing in software development, in order to isolate access to the NAS for ensuring uncompromising security. Some virtual machines can also be bridged directly to the Internet to serve as virtual servers for various network applications. Whether it is switching external physical lines of a virtual machine, changing a connection mode between virtual machines, or expanding application functions with new virtual machines, software-defined configuration can easily meet the requirements and allow users to freely combine, flexibly match, and expand at any time in order to realize the full potential of virtual and physical network integration.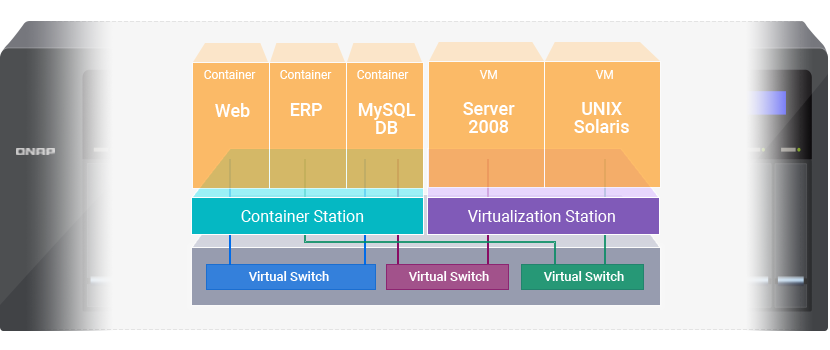 GDPR? With QBelt, even cross-border data transmission is no longer a problem
The QVPN Service app, QNAP's Virtual Private Network app, has also been improved in QTS 4.3.5, with the introduction of QBelt, the QNAP-exclusive VPN protocol. The standard PPTP/L2TP protocol is widely used, but it can also be easily detected and blocked. The new QBelt protocol greatly reduces the chances of detection, and QBelt uses a higher-level encryption mode to ensure the confidentiality of data flow. Coupled with QTS's sophisticated user rights management, users can rest assured that QNAP NAS can properly handle sensitive information such as personal information without any security leak. QNAP will also provide a QBelt client for Windows/macOS/Android/iOS, allowing users of different platforms to share the reliable and highly secure data transfer.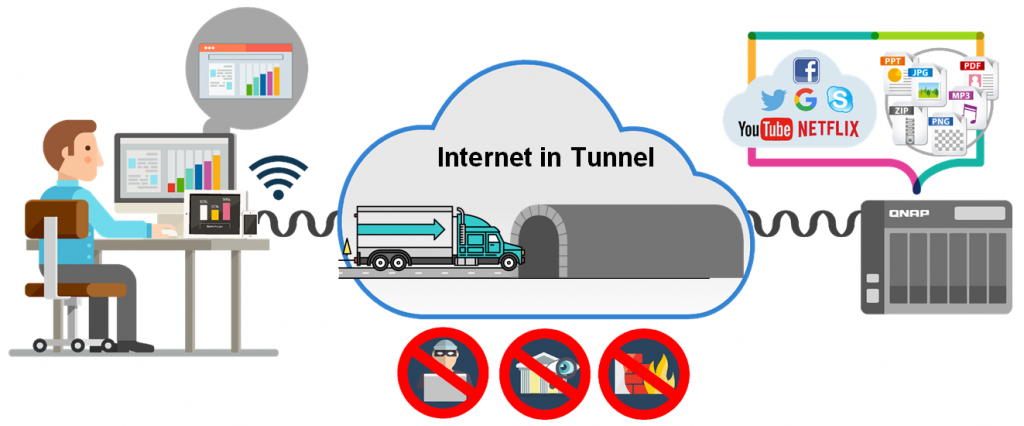 A virtual and integrated all-around network, raising the bar for competition
In addition to the above innovative features, QTS 4.3.5 also continues to enhance and refine various details (multiple/custom DDNS, DHCP reserved IP address, static routing, full support for radvd, automatic detection of outgoing connections, etc.) in order to bring versatility to QNAP NAS and help users achieve more. QNAP constantly invests in virtualization technology development on NAS, and has long been a leader in related applications. Now it is also using advanced virtual instance interconnection functions to create virtual and software-defined all-around network application environment, so that enterprises can throw away traditional and complicated IT maintenance and focus on core business and innovation to achieve higher profit and growth.
For more details, please watch QNAP live stream: "QTS 4.3.5 preview: Enhanced network management to optimize 10GbE connections".