As more and more companies line up to occupy digital spaces in the emerging metaverse, Blue Sky Innovations, a North Carolina-based tech incubator, is strives to keep digital spaces, and digital faces, accessible and cost effective. Blue Sky faces the challenges that come with their ambitious goals with the help of Lenovo technology, and the resources at the Lenovo AI Innovations Lab.
From science fiction to reality
Most of the foot traffic moving along the sidewalks of the small college town of Chapel Hill, North Carolina walks past the unassuming awning of the Blue Sky Innovations headquarters without giving it a second thought. But inside the nondescript building, engineers and innovators at Blue Sky are busy turning science fiction into reality. Stepping inside the space transports visitors instantly from sleepy college town to cutting edge lab, where robots roam the halls and AI has taken over mundane tasks.
"People say, oh! I saw that in a movie!" laughs Steven King, Chief Innovation officer at Blue Sky. "No that's real, and it's happening, and it's today!"
Depictions of science fiction can often lean into dystopian visions as much as utopian ideals, but the innovators at Blue Sky are making it their mission to keep humanity's wellbeing at the front of their minds.
King spoke to filmmakers for Lenovo's Tech @ Heart documentary series about the team's approach to immersive storytelling and human-centered innovation.
Putting people first
"Part of the job is to figure out: What is the future? Where is technology going?" explains King. "We're trying to not only predict it, but drive it, and to create human centered innovation to solve problems that leverage technology focused on the human that uses it."
Blue Sky Innovations stick to that ideal as they develop projects across the full spectrum of industry and technology. Many of these projects employ—or focus specifically on—artificial intelligence. From a robot journalist who can self-navigate dangerous environments, to AI that can solve puzzle cubes with the aid of mechanical eyes, Blue Sky engineers are constantly imagining new applications for AI. But in working with AI, the team at Blue Sky came up against the limitations of their own technology infrastructure.
"Working with AI models that are extremely sophisticated requires an extensive amount of computing power."  says Bhargav Bompalli, Computer Vision Engineer at Blue Sky Innovations. And the technological and fiscal limitations that accompanied that intense computation also mirrored one of the issues Blue Sky was tackling in the field of volumetric capture.
Volumetric capture is a video capture technique that records a three-dimensional space and is typically accomplished with a large and expensive rig comprised of many different cameras capturing the subject at all different angles. These separate feeds are then reassembled into a single digital object—typically through powerful computers. This technology is used across industries from filmmaking to video game development, but with the advent of the metaverse, volumetric capture has many interesting new applications.  Blue Sky, in keeping with their human centered philosophy, sought ways to make this process more accessible and cost effective.
"Being able to appear as your own image and likeness, has great value in the future of the metaverse," says King. "We're trying to get there, so that when I'm in a headset, I feel fully immersed."
So rather than using the expensive rig with dozens of cameras—an expensive and technically challenging solution—King's team turned to AI to augment much more accessible equipment.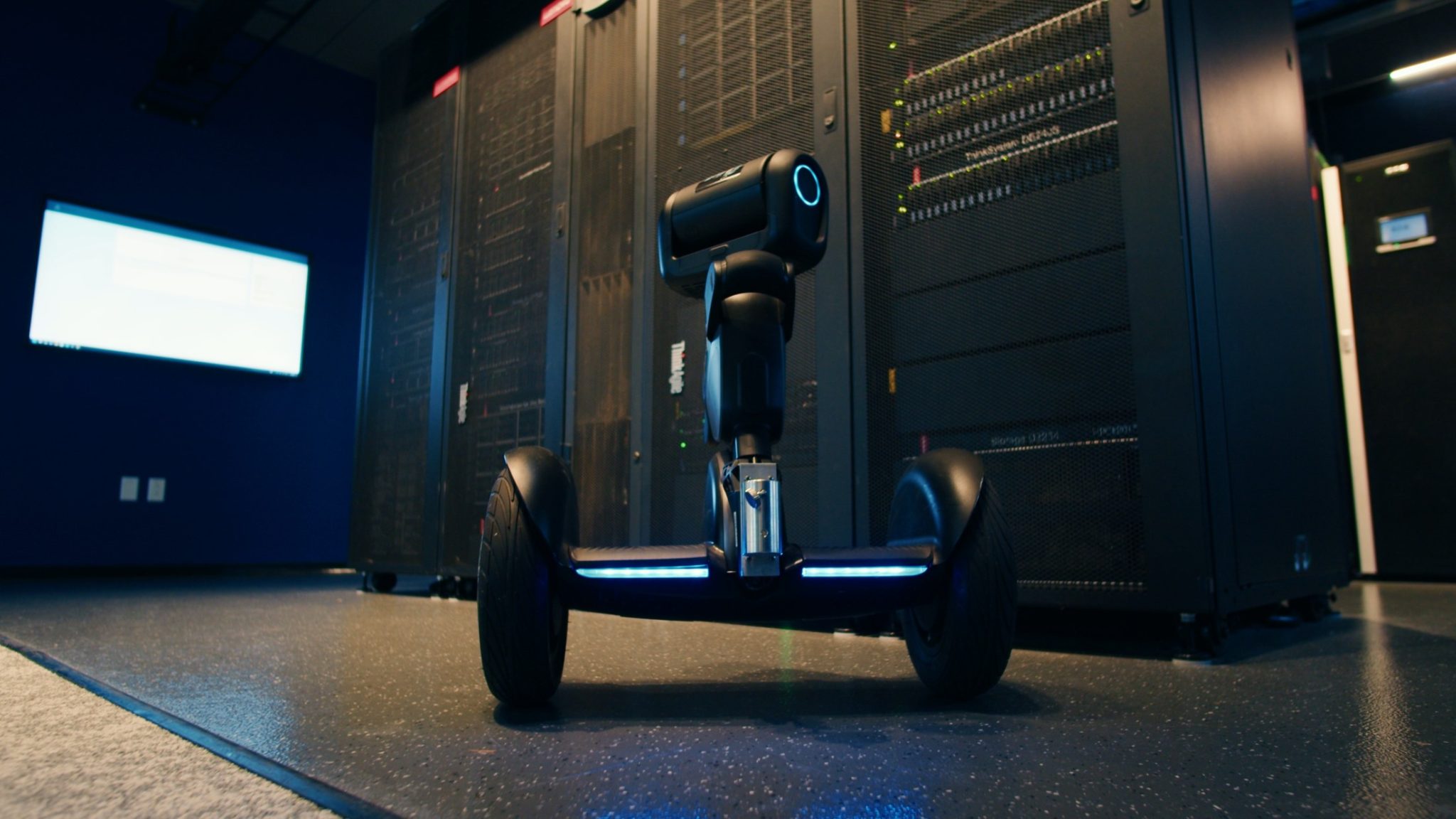 Unprecedented AI
Accomplishing this goal required creating a significant leap in technological capability, from the imaging technology used to gather data, to the programs used to process and assemble that data. In order to make that leap possible, Blue Sky relied on their partnership with Lenovo, and the unprecedented resources made available through the Lenovo AI Innovations Lab.
"We have a lot of infrastructure purpose built for AI workloads" explains Robert Daigle, a member of Lenovo's Infrastructure Solutions group focused on AI and business innovation. "Really, we're trying to reduce the friction that comes with adopting AI. We're able to support [Blue Sky] end-to-end, from the desktop to the data center."
The Blue Sky team is developing a solution with far fewer cameras and a sophisticated AI interpolating those images—a process playing out across servers in Lenovo's AI Innovation Lab, and locally with Lenovo workstations.
Daigle also remarked on what he called Blue Sky's "speed of innovation" and how impressively the innovators at Blue Sky were able to turn promising ideas into working products. "They are able to connect research to application in a way I've never seen before,"  Daigle says.
The engineers at Blue Sky attribute some of that capability to their partnership with Lenovo.
"It's very helpful to have a strong partner like Lenovos" says Vivek Sahukar, AI Researcher at Blue Sky Innovations "You can put those ideas into action, and you can see what works and what doesn't instantly." But Sahukar also remembers to stay true to the human-centric values shared by Blue Sky. "I'm trying to make AI more autonomous," Says Sahukar, "but also to understand how humans are going to interact with it. That human element is always there."
The future is now
With exciting steps already being made in the field of volumetric capture, members of both Blue Sky, and Lenovo teams expressed excitement about the possibilities opened up by the collaboration, and by the limitless applications of AI in solving humanity's greatest challenges.
"What Blue Sky is working on today is going to help businesses realize the power of the metaverse, so it becomes tangible to them, not just a buzz word." says Daigle. King shares similar optimism about the future.
"Our innovation lab and Lenovo share a common mission. We need to have really smart technology, and we need to make it available to everyone. Lenovo gets that!"