Diverse case studies from the leader in industrial cordless voice communications tell success stories and introduce a brand new phone—the elegant FreeStyl SIP2!
Businesses rely heavily upon voice communications for both external and internal calls to keep things running smoothly and efficiently. But, in larger more demanding environments, communication failures can cause unending frustration and reduced productivity.
For over twenty-years, EnGenius has manufactured long-range and reliable cordless communication systems for large and demanding environments. Their less-than well-known systems are insisted on by industry players in the know. Strong EnGenius system attributes drive these markets to choose EnGenius again and again.
What We Have to Offer
EnGenius offers two lines of communications systems: DuraFon and FreeStyl. Both lines have attributes in common including long-range wireless phone communications using 900 MHz, built-in digital two-way radio broadcast, and private handset-to-handset intercom.
As its name suggests, the DuraFon line is durable and provides long-range communications for the most extreme environments. The FreeStyl line (with the new FreeStyl SIP) also provides incredible coverage all from a sleek and stylish carry-away handset.
Both lines operate wirelessly on 900 MHz, allowing the signal to outperform higher frequencies and not use or interfere with valuable Wi-Fi bandwidth.
EnGenius interviewed some of its small business clients across the country and asked them how well EnGenius solved their long-range phone and two-way radio needs.
Here's what they had to say.
Peter Boisvert: Market Basket Grocery Store, New Hampshire
Market Basket Grocery had a worn-out phone system with inadequate coverage, poor range, and constant device breakdowns. Furthermore, the chain had trouble getting replacement parts and batteries for the phones. They already knew they wanted EnGenius phones and asked NETS New England to do the install.
NNE installed the DuraFon SIP system, which worked so well, the chain decided to have it installed in an additional 45 new and existing stores.
The DuraFon-SIP system easily covers up to 250,000 square feet—more than adequate to cover the 80,000 square foot stores. Its handset is also tested to endure over 50 falls onto concrete floors without breaking.
Boisvert raved about the ease of installation.
"The SIPs are very simple to install. Once they're configured, it's really just a matter of plugging into the network. We put the base stations in the network closet, and we're getting good range throughout the store," he said.
The DuraFon SIP's scalability was another strong selling point.
"One of the best things about the SIP system is that you can run so many handsets off of the one base, added Boisvert. "You can add a lot of phones to an older store without wiring, so I see that as a real benefit."
Bryan Nelson, Owner: Blacksmith Inn on the Shore, Baileys Harbor, WI
Blacksmith Inn had installed a cordless phone system over twenty years ago to work with its existing PBX system. However, they began to experience interference after installing a Wi-Fi network.
In addition, the phones didn't have enough range to cover the whole 2.5-acre property.
Bryan Nelson, owner and innkeeper of Blacksmith Inn, tried a variety of consumer-grade cordless phones, but none of them could do the job. He contacted the company that installed the PBX system, but their solution would have cost a whopping $5000—well outside his budget.
Nelson explained that his search ended soon after. "I did a search for long-range cordless phone, found EnGenius DuraFon 1X, and decided to give it a try, "Nelson explained.
Nelson knew that the DuraFon would be unaffected by the Wi-Fi network since it operated on the 900 MHz band. Nelson was also impressed by DuraFon's two-way intercom, a feature his previous system lacked.
"Our property has a lot of nooks and crannies so the ability for our staff members to move around the property and still be able locate each other—is critical," Nelson said.
According to Nelson, the DuraFon system has delivered everything he was looking for in a cordless telephone system—reliability, extended range, clarity, and cost savings. "These phones are just plain reliable," said Nelson. "It's like they were made for the military. It's amazing."
Greg Raymer, Director of Finance: Leiden Cabinet Company, Twinsburg, OH
According to Director of Finance, Greg Raymer, Leiden Cabinet Company's consumer-grade cordless phone system was trouble from the start. The phones did not perform well—providing bad call quality, lack of coverage, and poor durability.
Leiden's manufacturing plant covers 210,000 square feet. They needed a new phone system that delivered both reliability and durability to support operations in a harsh manufacturing environment.
"Users spend most of their time on the shop floor, which has a large number of machines including saws, CNCs, and power tools," Raymer said. "We operate a wood shop, so it is a dusty environment. The shop has high 30-foot ceilings and multiple pallet shelving and storage racks which may cause interference."
After contacting their telephone vendor, Big Ohio LLC, Leiden Cabinet decided to install the DuraFon PRO long-range multi-line expandable and DuraFon 1X long-range industrial cordless phone systems. The wireless handsets gave employees the freedom to roam throughout the premises and beyond without losing touch.
According to Raymer, the easy deployment and reliability of DuraFon was worlds better than their previous system.
Keith Millard, Manager: Mike Perry Chrysler Jeep Dodge, Nacogdoches, TX
Mike Perry Chrysler Jeep Dodge had been using an inexpensive long-range cordless phone that provided a fairly acceptable range, but spotty communication.
Keith Millard, used car manager, noted that the unreliable system had a negative impact on customer service.
"Customers and staff need to be able to get a hold of me at all times," he explained. "Customers don't want to leave a voicemail message when they call. To provide the best customer service, I need to be able to take their calls, whenever they call, from wherever I am during the workday."
The full-service dealership in Nacogdoches, which includes a large parts department, body shop and service center, spans approximately 30 acres.
"I'm moving around the business a lot," Millard explained. "Whether I'm in the warehouse, around the dealership or out on a test drive, I need to be able to get my phone calls."
After extensive research, Millard found the EnGenius DuraFon 1X cordless business telephone system to be the ideal solution with its longer range, better reliability, and increased call clarity.
Millard boasts about the performance of the DuraFon 1X system: "I couldn't do my job without it. I'm constantly moving around the property and appraising vehicles, driving them around the property and off-site. It's critical that I be able to make and receive all of my calls no matter where I am. When I'm in the cars, I can't even hear a page. With the DuraFon, I can drive within a mile or two radius, and I know I won't miss a call."
"The DuraFon is a more durable product and provides much better quality, clarity, and range than our previous phone system," Millard explained.
He has no regrets about the deployment of the system. "It's a pretty easy sell once people realize what this phone can do for them."
EnGenius Technologies Always Innovating
As these stories illustrate, the range and durability of EnGenius phone systems and handsets is unequaled. But excellence has not stopped the manufacturer from pursuing innovation, including its recently released FreeStyl SIP and DuraFon Roam.
"The FreeStyl SIP brings together our renown, long-range, voice communications technology and the benefits of SIP protocol to our popular carry-away category of voice products," says Doug Hayter, senior product marketing manager of EnGenius voice communications.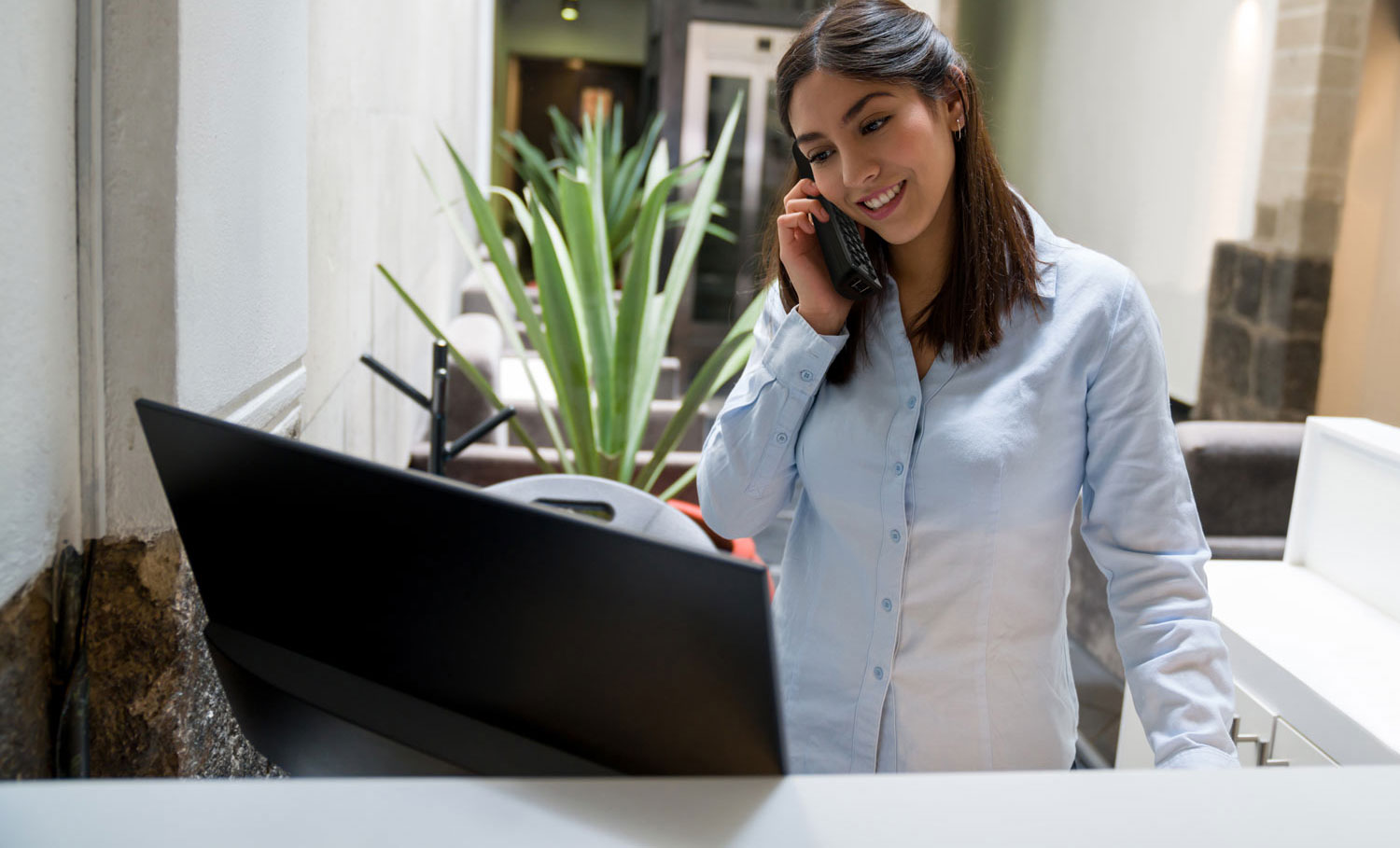 "For the first time, SMBs, hotels, libraries, and other large environments can have long-range voice coverage for their employees in a sleek carry-away style handset for phone, two-way radio broadcast, and private intercom—which uses SIP protocol without taking up valuable Wi-Fi bandwidth. That changes the game!"
The DuraFon Roam brings a number of innovations to the DuraFon industrial voice SIP line. This system brings the ability to have calls handed-off between base units as a handset is moved between base unit coverage areas. Additionally, the DuraFon Roam allows for up to 90 handsets with 32 SIP accounts verses 10 handsets with 10 SIP account of the DuraFon SIP system. The DuraFon Roam integrates the ability to enable broadcast to other handsets via the base units without a specialty base.
All the EnGenius SIP models use 900 MHz for their wireless connectivity allowing the Wi-Fi frequencies to be used for data devices and not voice.
Are you ready to change YOUR game? Contact us and solve your phone problems for good.
---