At a glance:
Classrooms are using video conferencing as a means of delivering lessons, small-group and one-on-one learning and tutorials, conferences, and more.

When you use video conferencing in education, there are still some basic etiquette norms to follow to ensure you get the most out of it.

Taking classes online is just one of the many ways schools can benefit from video conferencing software.
---
👩‍🏫 💻 📚  To help reduce stress, improve efficiency, and avoid dreaded technological issues, RingCentral has composed a handy checklist of actions that educators may want to take before, during, and after a video conference.
---
Like so many aspects of our lives, education has undergone major changes over the last couple of years—and is redefining itself for a new era. Once niche or offered to augment in-person learning, virtual education is going mainstream.
This means that classrooms are employing new tools—including using video conferencing as a means of delivering lessons, small-group and one-on-one learning and tutorials, conferences, and more.
There are some key benefits to using video conferencing in education. Bringing classes and other educational activities and opportunities online can make education more accessible. Many students and teachers agree that the effective use of video meetings in the classroom can make learning more engaging and participatory.
How video conferencing works in the classroom
Video conferencing allows students and teachers to connect using the same technologies businesses and other organizations use to support video meetings.
Typically, this requires video conferencing software, a device—such as a mobile phone or laptop—from which to run the software, and an internet connection.
With these requirements in place, students and teachers can join classes, small-group work sessions, tutorials, and other educational events and watch, listen to, and interact with their teacher and fellow classmates.
Who can use video conferencing for education?
There are many ways to use video conferencing to connect people in educational settings and many individuals within these organizations who may benefit from the ability to meet face to face—from anywhere.
These include:
Teachers and professors

Students

Tutors

Administrators

Faculty and staff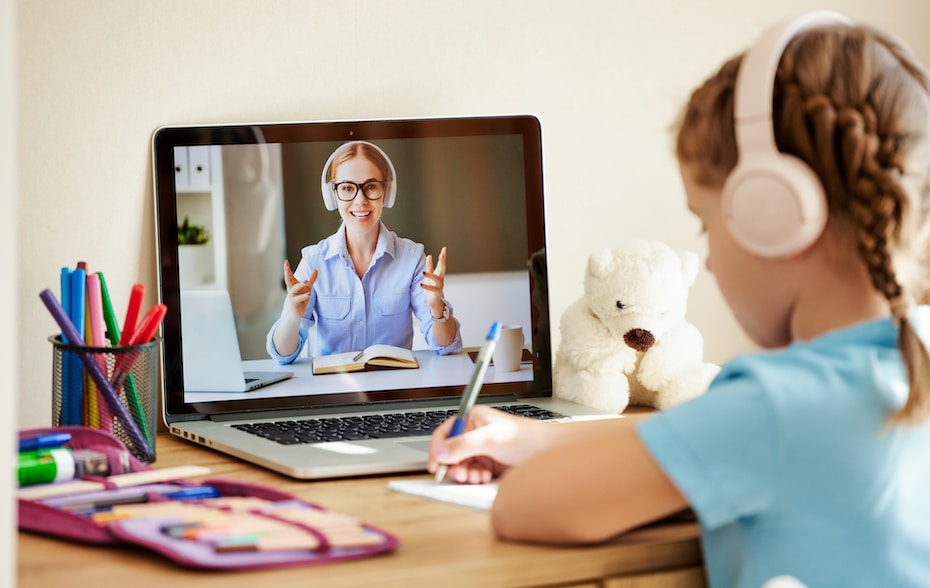 What video conferencing can be used for
The most obvious application for video conferencing in education is the ability to broadcast classes and lectures to students who can attend remotely.
But taking classes online is just one of the ways schools can benefit from video conferencing software. Other great uses include:
Office hours: Office hours have long been a popular option for enabling casual conversations between students and teachers or teaching assistants. With video conferencing, it's easy to bring the drop-in concept online and set up office hours where students can log on to chat or ask a question.
Tutoring sessions: Offering tutoring and extra help in the virtual setting can make these supports more accessible and improve the ability of students to access these important resources.
Group discussions and projects: Group work is often a key component of education, promoting collaboration, diversity of thought, and teamwork, among other benefits. Video conferencing solutions can make it easier for students to meet and work together.
Faculty and staff meetings: Students and teachers are not the only groups who need to meet up and work together and whose ability to do so improves with video conferencing. Video meetings are also a good option for faculty and staff meetings and can remove barriers that may prevent staff from joining such sessions.
Teacher conferences: Being a teacher involves learning too, often in the form of conferences. When such events go online, with the help of video conferencing technology, teachers can attend and learn but reduce travel time and time away from teaching. Attending conferences virtually can also allow teacher participation when barriers such as time or travel budget may otherwise prevent them from doing so.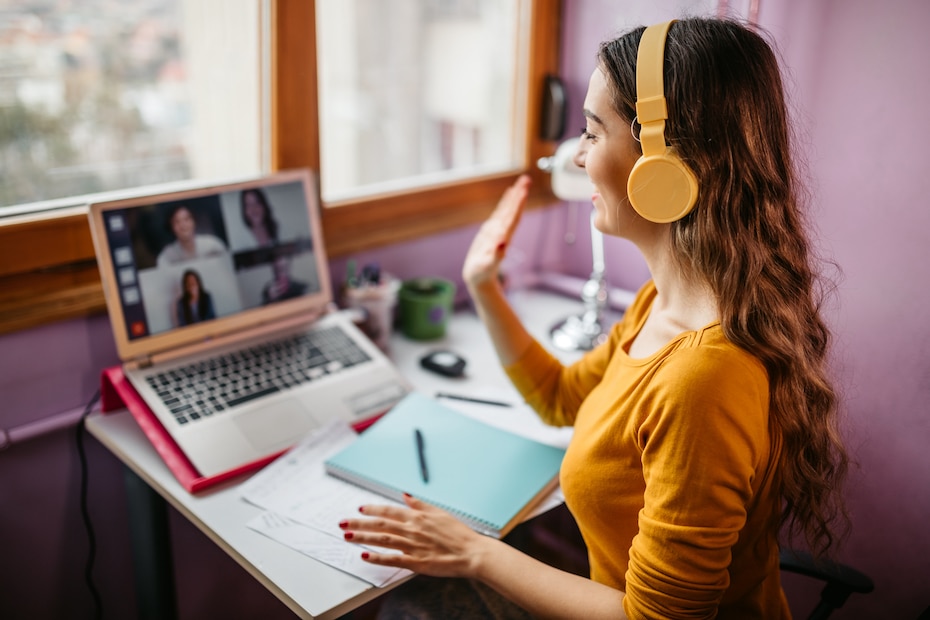 Key benefits of using video conferencing in education
In general, there are many benefits to using video conferencing. But there are some specific ways integrating video conferencing into your education system can be particularly useful and impactful.
Here are some key benefits:
1. Breaks down accessibility barriers between teachers and students
For some students, barriers such as living or working far from school, the language of instruction, or a disability can stand in the way of learning, either by preventing them from attending altogether or by reducing their engagement. Video conferencing can eliminate these barriers.
2. Connects teachers and students from virtually anywhere
Before classrooms went online, only students and teachers who lived near enough to attend in person could participate. But online learning opens up opportunities for those who live in other locales—whether in a different state or even another part of the world.
This benefits not only students or teachers who may now attend but all participants because it fosters a rich diversity of backgrounds, beliefs, and opinions, enhancing the overall learning experience.
3. Allows participants to be face to face and avoid feelings of isolation
Without the right tools, online learning can feel like working in a vacuum and rob teachers and students of the opportunity to share knowledge and opinions and work together.
But whether because of a pandemic such as COVID-19 that affects everyone or due to individual barriers, it's not always possible to attend school in person. With video conferencing tools, students and teachers can still engage with each other face to face.
4. Lectures and meetings can be recorded
There are various reasons why students may not be able to attend a class. With video conferencing, teachers can record lectures and meetings and post them online. Not only does this prevent students from missing learning in the event they can't make a class, but it also opens up opportunities for those whose schedules may prevent them from signing up in the first place.
As well, the ability to record gives teachers the option to pre-record lectures ahead of time if they can't make a class.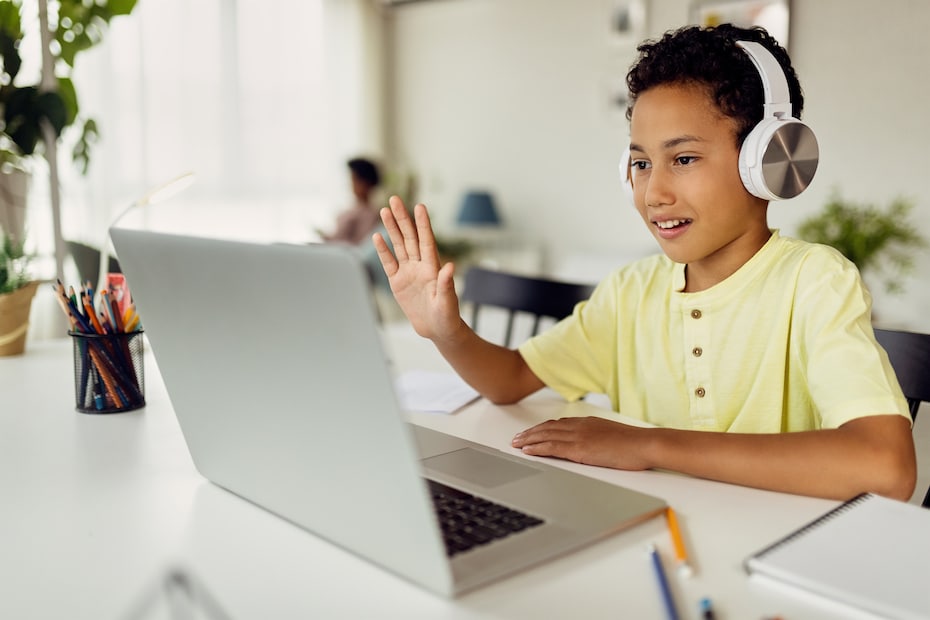 5. Video technology features can encourage participation and collaboration
Video meeting solutions are becoming increasingly innovative, with new tools such as virtual breakout rooms, screensharing, and whiteboards that make classes more interactive and engaging.
This blog post takes a closer look at some of the new must-try video conferencing collaboration features to use in your classroom.
6. Attendees can share content in real time
Among the innovations that make classes more participatory are features that also improve participants' ability to communicate and share knowledge. These include screen-sharing, the ability to instantly send links without leaving the meeting, and collaborating over shared documents.
Not only do these features improve learning, but they also cut down on the time and cost associated with printing handouts for physical classrooms.
7. Allows a smooth transition between virtual and hybrid learning environments
Navigating between in-person and virtual learning environments is a new challenge teachers encounter as they move to a hybrid learning environment. Video conferencing solutions can support teachers by reducing the challenges they're experiencing in this evolution.
Best practices for using video conferencing during class
Virtual classes may feel more casual and intimate because they allow participants to connect online. But when you use video conferencing in education, there are still some basic etiquette norms, as well as other important ways to ensure you get the most out of class.
From testing your technology in advance to reducing distractions, follow these best practices.
Bring a safe and seamless video experience to your class with RingCentral
Video conferencing is a useful and engaging tool that is helping to propel classrooms into the future, making education more accessible and engaging. 
But offering the best virtual classroom environment means choosing your video conferencing solution carefully. Available with a full suite of features on every device, RingCentral puts everything teachers and students need for great online learning experiences at their fingertips. We also keep classroom security top of mind, protecting data and privacy through end-to-end encryption video conferencing. 
RingCentral is everything you need to meet the evolving needs of students, teachers, and administrators alike. Learn more now.
Originally published Jun 13, 2022
Learn together from anywhere with messaging, video conferencing, and phone calls—all in a single platform.