Many people do not know that I'm a fourth-generation beekeeper. However, the bees didn't actually become part of my life until I was graduating high school and my uncle began keeping bees again on our family farm. From that point on, I was hooked. My name is Leigh-Kathryn Bonner and I'm the Founder/CEO of a business, or "beesness" as we like to call it, called Bee Downtown. I founded the company when I was a Junior at NC State University nearly seven years ago.  At Bee Downtown we install and maintain beehives on corporate campuses to help build sustainable agriculture in cities while simultaneously providing year-round employee engagement and leadership development programming to our partners.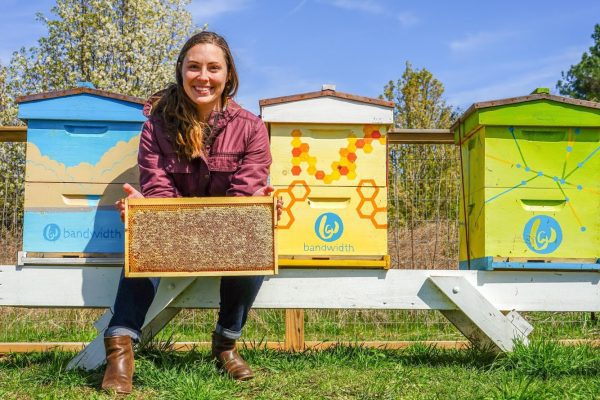 I started Bee Downtown because I wanted people to have the opportunity to know agriculture like I did growing up. Our family farm has, and always will be, one of the most important places to me. The farm is where I fell in love with the work and intentionality it takes to nurture the earth. I wanted people in cities, who may have never seen agriculture, to have the opportunity to find their joy and an invitation to cultivate their own love for agriculture as well. I knew bees could create a unique and educational experience for others, just like they did for me.
The Bee Downtown Corporate Hive Program allows us to help many of the largest corporations in the world including Invesco, Delta, Cricket Wireless, Georgia Power, Chick-fil-A and many more, cultivate great places to work through unique and memorable experiences offered by the bees. While Bee Downtown has seen amazing success and growth since its inception, it was never actually meant to be a business. I just wanted a place in the city to keep bees – what I found was corporations wanted the bees on their campuses just as much as I wanted a place to keep them. It was the perfect match.
The typical 21-year-old is thinking about college exams, exploring newfound freedom, or traveling the world. However, that was the age when I decided to turn my passion for bees and beekeeping into a business. At the beginning of my journey, someone told me that despite looking so glamorous to others, being the sole founder of a company is one of the loneliest jobs you could ever have – he was right.
Entrepreneurship is hard. Leadership is hard. Building a business that doesn't have an industry to fit within yet, is hard. I will be the first to say that entrepreneurship is not for the faint of heart because even on your worst day you cannot walk away.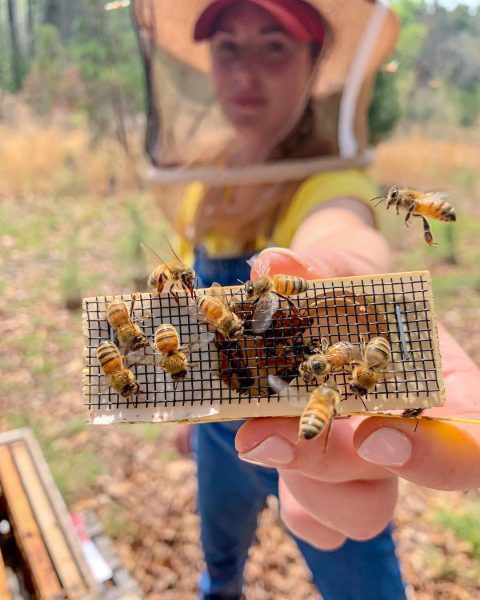 From cultivating a well-rounded team expanding to multiple cities, creating two HQs, to understanding aspects like payroll and HR, running a business can be intimidating. It's been important to me to ensure throughout all our growth that we always supply our team with the proper equipment. Being an effective business owner and leader also means finding opportunities even in the most uncertain of times. During the pandemic we had to look for virtual options to keep our team employed – this is when our virtual corporate programs flourished. With this new high-demand, it was imperative we had the proper technology to support the program. The Lenovo SMB technology allowed our teams to continue to work with our corporate partners in providing, buzz-worthy team building activities.
The constant ups and downs are why people should not become an entrepreneur just to say they are one. Owning a business means having an overwhelming passion for the work you do. Being a business owner also means being unwaveringly committed and having the perseverance and endurance to press on even when you're burnt out and defeated. If you're looking for a get-rich-quick scheme, becoming an entrepreneur is not the job for you.
People always ask me what advice I have for those looking to start a business. And truth be told, there's so much I can share about my experience as an entrepreneur that I could write a book on it–as any entrepreneur could.
Instead, I'll share – starting a business will not be easy – it's inconvenient, utterly exhausting, and will take over all aspects of your life. However, it is one of the most rewarding, educational, purpose-giving, and exciting things you can ever do.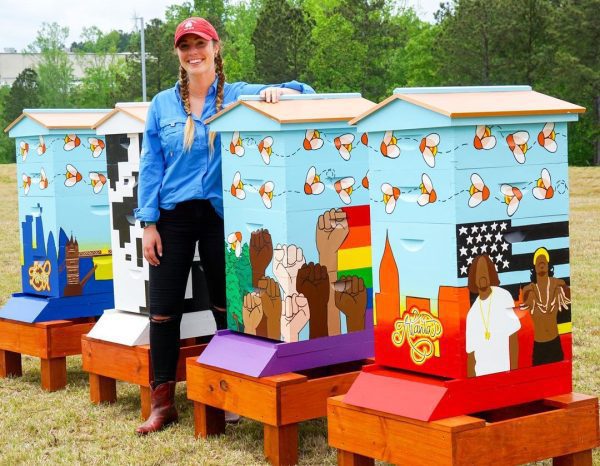 I have learned more in my seven years with Bee Downtown than I think I could have ever learned in 30 years of working for someone else. If you are passionate about your business, and you believe it will create something of great value and impact, then I encourage you to try. Even if it doesn't work out, you will never look back later in life and wonder "what if?".
To this day, despite having an amazing team, there are still times that I feel lonely and overwhelmed with anxiety. But at the end of the day, I am incredibly proud of the good we are putting into the world. Nothing can compare to reflecting on the positive impact we are making in our communities. I wouldn't trade my entrepreneurial life for anything because it has made me who I am today.
If you're interested in my work and want to keep up with what's buzzing on my #LenovoInnovators journey, follow along on Instagram @beedowntown.