In a recent comparison, Network World put EnGenius Technologies to the test against other leading enterprise solution companies—Extreme, Cisco, and Meraki—to find out whose wireless Wi-Fi 6 access points delivered the best throughput speed.
When the dust cleared, the EnGenius EWS377AP access point (AP) emerged the clear winner with both the fastest average throughput and the fastest maximum throughput numbers with Wi-Fi 6 clients and their Wi-Fi 5 predecessors.
Click to read the Network World article in full.
THE FINAL SCORE
On Wi-Fi 5 clients, the EnGenius AP outperformed the second-best Extreme AP in average throughput with the Galaxy S5 client, clocking a throughput of 498.5 Mbps against Extreme's 485.45 Mbps.
When paired with the Wi-Fi 5 TP-Link adapter client, EnGenius AP and the Galaxy S5 phone were tied at 498.5 Mbps.
EnGenius also beat out the competition on Wi-Fi 6 clients, with a record high 929.37 Mbps score earned in the linkup between the EnGenius AP and the iPhone 11 client.
As more and more businesses upgrade to the greater strength, speed, and efficiency of Wi-Fi 6, they need to know that new products, like access points, are compatible with any Wi-Fi 5 devices that might still be part of the network.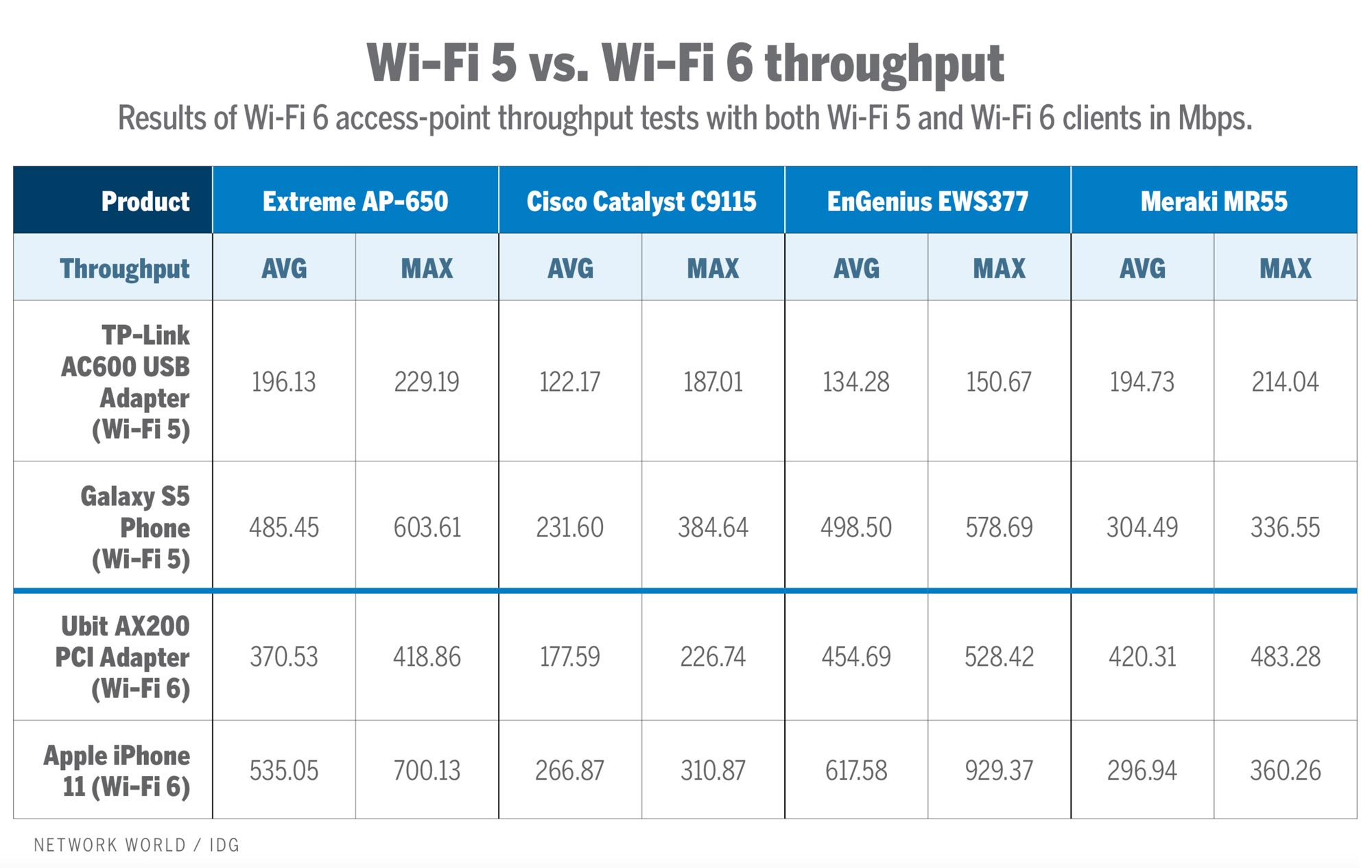 TEST PARAMETERS
Since the APs of each company support both Wi-Fi 5 and Wi-Fi 6, Network World tested them against two Wi-Fi 5 and two Wi-Fi 6 clients, recording the average throughput and peak throughput during one-minute tests.
Specifically, the EnGenius EWS377AP was matched up against the Extreme AP-650, the Cisco Catalyst C9115, and the Meraki MR55. Each AP was paired with Wi-Fi 5 clients, TP-Link AC600 USB adapter and Galaxy S5 phone. Each AP was further paired with Wi-Fi 6 clients, Ubit AX200 PCI adapter and Apple iPhone 11.
The results give a sense of the performance boost users can expect by upgrading to Wi-Fi 6. However, the Wi-Fi 5 testing is equally important because some Wi-Fi 5 clients will be used for some time even after users upgrade to Wi-Fi 6 APs.
Among the features compared were the multi-user OFDMA, WPA3 security protocol, and the multi-user, multi-input/multi-output (MU-MIMO) streams at 2.4 and 5GHz.
See how the EnGenius EWS377AP matched up against these and more features of the other Wi-Fi 6 APs in the chart below: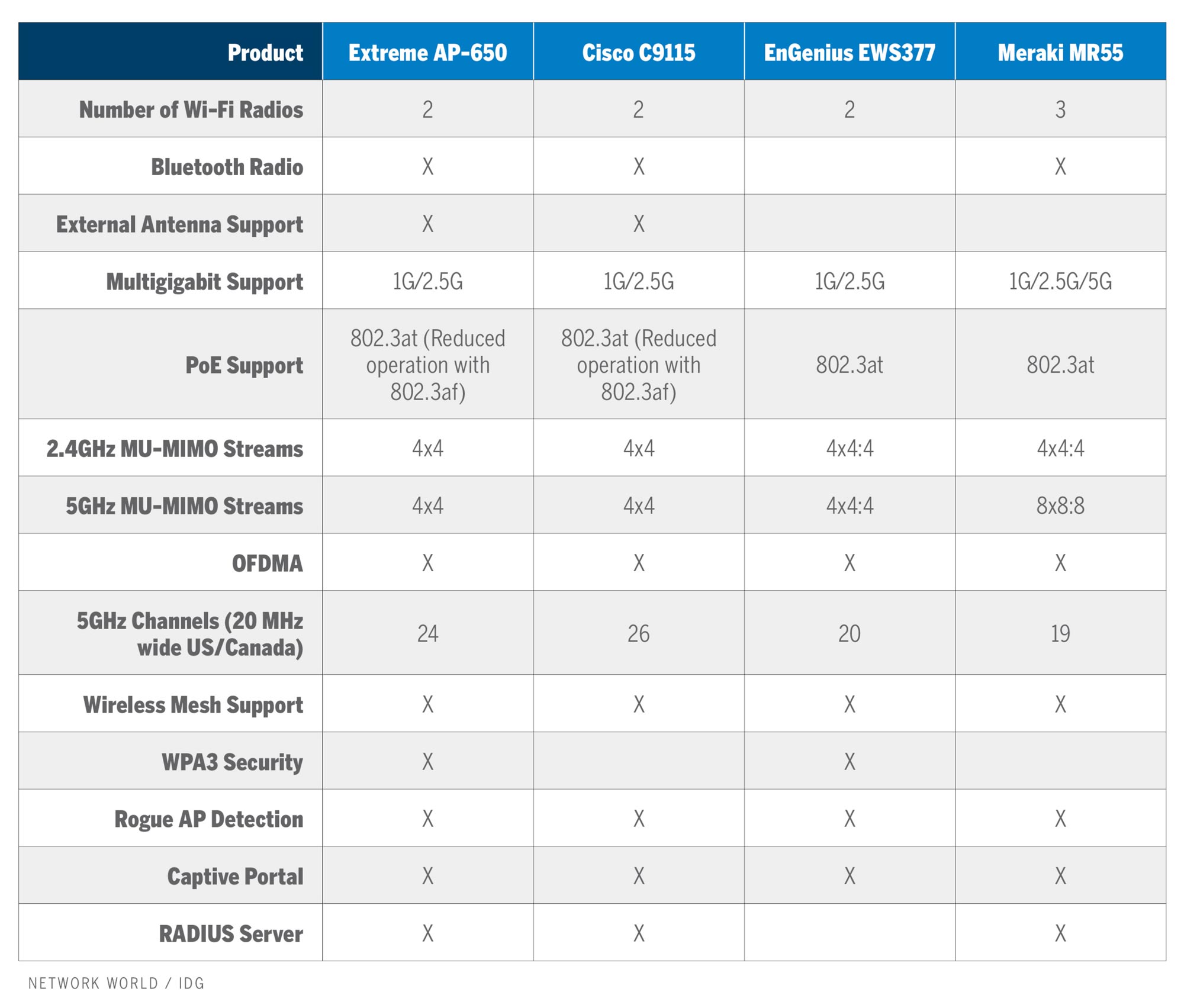 ENGENIUS ACCESS POINTS AND NETWORK MANAGEMENT SOLUTIONS
All EnGenius access points can be managed using either the license-free EnGenius Cloud or the EnSky on-premises network management solution. Some companies take the best of both worlds and create a hybrid management solution as well.
Visit engeniustech.com to learn more about EnGenius' line of high-performance wireless networking APs, including the tested EWS377AP (on-premises management) and its twin, the ECW230 AP (cloud management).
See all Blog Articles
---