The simplest actions can have the biggest effects. In the healthcare field, if one provider doesn't communicate effectively with another provider, patients could die.
How can providers improve healthcare communications for better patient outcomes? The answer lies in collaborative communications, through which information flows between providers for coordinated care.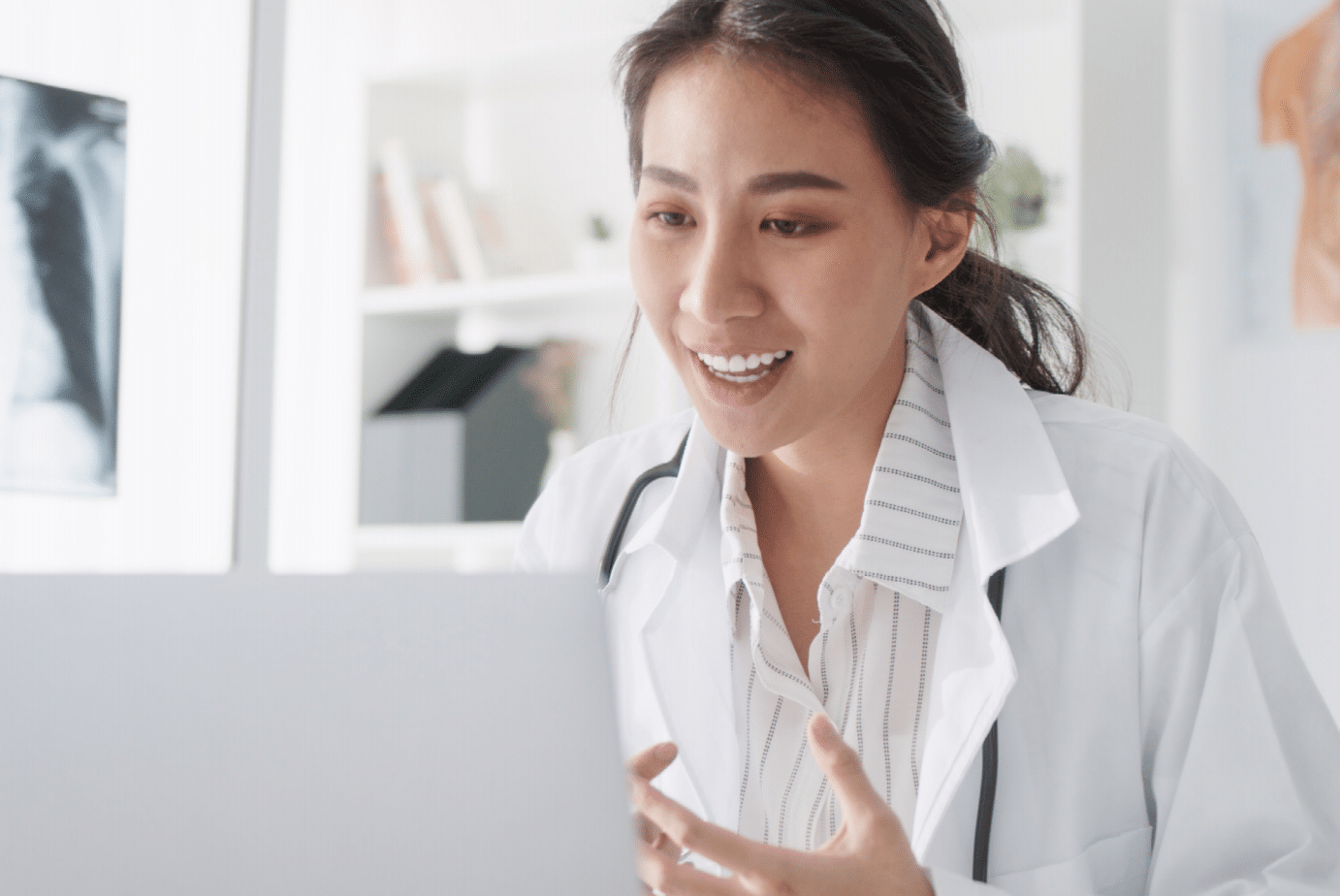 Quick guide to HIPAA-compliant communication between healthcare providers

View now

What is collaborative communication?
"Collaborative communication" is a concept that has its roots in the world of business. It's built on two foundations: collaboration and communication.
Collaboration involves working together closely to complete a project or achieve an organizational goal. Communication is critical to collaboration, yet not all the communication that takes place within a collaboration brings the parties closer to success.
Researchers who study behavior within organizations explain that collaborative communication involves updating everyone working on a project often and discussing issues openly. Everyone collaborating understands what's going on and what needs to happen next.
The role of collaborative communication in healthcare 
Collaborative communication plays a crucial role in healthcare. When providers don't communicate, patients suffer the consequences.
According to research published in the Journal of Oncology Practice, the most common oncology-related medical errors were directly related to a lack of communication between providers and facilities. These medical errors comprised over 50% of all reported adverse events at the Veteran Affairs hospitals the researchers studied.
A lack of care coordination doesn't just affect patients; it also hurts healthcare organizations' bottom line. Research from the American Journal of Managed Care revealed that insufficient care coordination raises the cost of chronic disease management by over $4,500 over the course of three years.
Collaborative communication best practices in the healthcare field
How can providers boost collaborative communication within care teams? Here are some best practices providers can put in place to ensure better outcomes and higher efficiency:
Using the right technology

Making sure everyone is on the same page, literally

Ensuring care teams can communicate through mobile devices

Giving care team members multiple communication channels

Securing communication so it's HIPAA-compliant

Offering file-sharing capabilities for effective collaborative communications
Using the right technology
The right technology for healthcare communications must include easy access from anywhere at any time. Healthcare never sleeps, and since healthcare teams are often working in different facilities and locations, the ability to connect anywhere at any time is essential.
Cloud communications platforms offer a set of collaboration tools (video, telephony, chat, and file-sharing) in one place. They save time and effort; providers and teams don't have to navigate through point systems, and they're easy to use.
Making sure everyone is on the same page, literally
If you want to empower providers to communicate effectively with their staff and colleagues, you have to make sure everyone is using the same solution.
One provider can't be using one solution, while his colleagues and staff use other communication tools. Healthcare organizations can avoid this situation by choosing a cloud communications platform that's easy to use and encourages collaborative communication.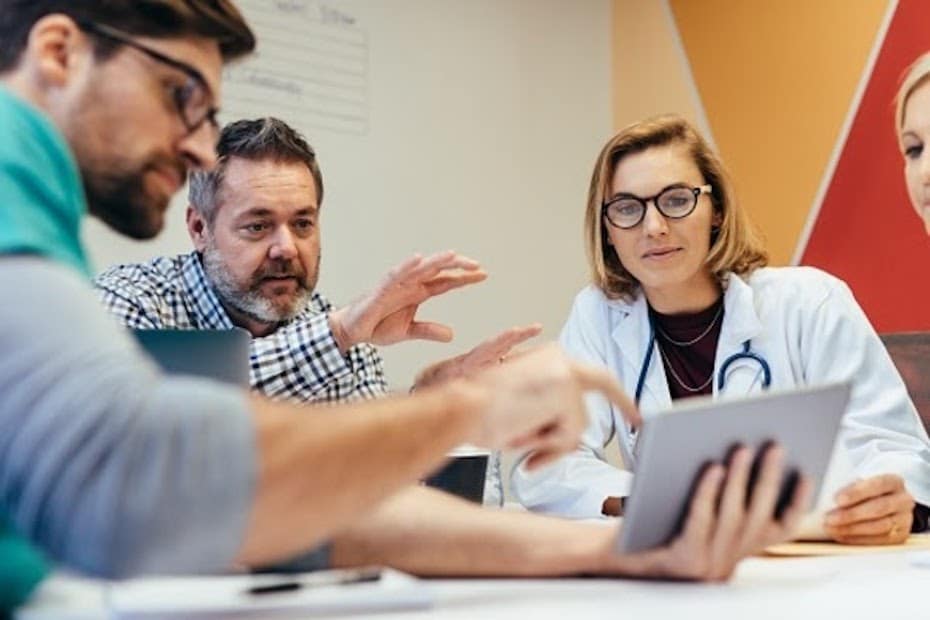 Ensuring care teams can collaborate through mobile devices
Market-leading cloud communications platforms enable users to utilize mobile devices. Mobile devices have become ubiquitous in healthcare; researchers predict that by 2022, 95% of physicians and bedside nurses will use mobile devices in some capacity. That doesn't take into account all of the other healthcare team members, including radiologists, phlebotomists, and paramedics, who will also have mobile devices.
A cloud communications platform that's mobile-enabled lets providers communicate with one another while they're tending to patients. For example, a specialist could text a patient's primary care physician to alert her that he's put the patient on a new medication.
Giving care team members multiple communication channels
The right cloud communications platform offers providers and care team members more than one channel to share information.
That's important because, first, there will be times when it's easier to text rather than call, or vice versa. Secondly, providers from different generations will have different preferences; Baby Boomers will feel more comfortable on the phone, while Millennials and Gen Zs find it easier to text or jump on a video call.
Third, multiple channels make it easier to share information. Let's say a surgeon wanted to show the patient's primary care physician how a wound is healing. He can switch to a video call and point the camera at the wound so the patient's doctor can see it.
Securing communication so it's HIPAA-compliant
In 2019, the Department of Health and Human Services' Office for Civil Rights enforced ten financial penalties resulting from HIPAA non-compliance. These financial penalties totaled over $12 million.
Communications transmitted electronically, even if they're telephone calls, fall under HIPAA regulations. If you use collaboration tools that aren't secure, you could be liable for significant fines. Choosing the right cloud communications platform protects your communications and helps you avoid penalties for HIPAA non-compliance.
Offering file-sharing capabilities for effective collaboration
Although it's helpful to hold conference calls with all members of the care team, there's only so much collaborating they can do if they don't have a patient's file in front of them.
Market-leading cloud communications platforms offer file-sharing capability so that everyone on the care team has access to the same information. It helps them avoid fatal mistakes, such as prescribing the wrong medication or administering the incorrect dosage.
RingCentral's cloud communications platform boosts collaborative communication in healthcare
RingCentral's cloud communications platform improves collaborative communication in healthcare by offering the following capabilities:
Built-in HIPAA-compliant, HITRUST-certified security features

Multiple communication channels, including telephony, chat, and video conference

Real-time collaboration
Effective collaborative communications lead to better outcomes for patients because providers and team members are less likely to make errors when everyone has the same information. Moreover, costs go down because patients recover sooner when they get the right care the first time.
Improve healthcare communication at your organization with RingCentral
RingCentral's cloud communications platform empowers providers and staff members to communicate effectively, no matter where they are. Collaborative communication is secure, giving patients, staff, and providers alike peace of mind. With multiple communication channels, care teams can share information in a manner that best fits the situation. Better healthcare outcomes at a lower cost. Cloud communication systems are transforming healthcare. Find out how.